Retail Sales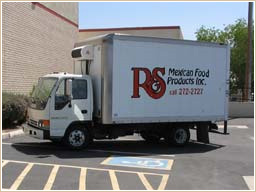 Buy your corn and flour tortillas and corn masa fresh at our office!
Made to your order!
For our retail customers
, just call your order in one day ahead using the phone number above and your tortillas and masa will be made fresh and ready for pick up the next day at the address above.
Why keep buying tortillas and masa that have already been on the shelf for three days? You can have them made fresh to your order from R&S with
no preservatives added
. One taste and you'll be glad you made the trip. Click on any of the links at the left to view the wide variety of tortillas and masa available or see some of our
sample retail pricing listed below
:
Fresh Corn Masa

White Corn Masa

 

$1.10 / pound
Prepared White Corn Masa

 

$2.15 / pound
Fresh Cooked Nixtamal

 

$1.00 / pound

 




Corn Tortillas

4 oz White Corn Tortillas

 

$2.75 / 5 dozen package
5 oz White Corn Tortillas

 

$2.75 / 5 dozen package
8 oz White Corn Tortillas

 

$3.00 / 5 dozen package
10 oz White Corn Tortillas

 

$3.25 / 5 dozen package

 




Specialty Corn Tortillas

5 oz Colored Tortillas

 

(Red, Blue, Green, Orange)

 

$5.50 / 5 dozen package
 5 oz Red Chili Corn Tortilla

$4.75 / 5 dozen package 
5 oz Blue Corn Tortilla

 

$6.50 / 5 dozen package
12 oz Maseca Tortilla

 

$4.75 / 5 dozen package

 




Hand Stretch Flour Tortillas

6" White Flour Hand Stretched Tortilla

 

$1.90 / dozen
10" White Flour Hand Stretched Tortilla

 

$2.15 / dozen
12" White Flour Hand Stretched Tortilla

 

$2.70 / dozen
13" White Flour Hand Stretched Tortilla

 

$2.90 / dozen
14" White Flour Hand Stretched Tortilla

 

$3.35 / dozen

 




White Press Flour Tortillas

6" White Pressed Flour Tortilla

 

$1.85 / dozen
10" White Pressed Flour Tortilla

 

$2.05 / dozen
12" White Pressed Flour Tortilla

 

$2.50 / dozen
13" White Pressed Flour Tortilla

 

$2.75 / dozen
14" White Pressed Flour Tortilla

 

$3.30 / dozen

 




Specialty Press Flour Tortillas

12" Whole Wheat Press Flour Tortilla

 

$2.90 / dozen
12" Red Chili Press Flour Tortilla

 

$2.90 / dozen
12" Jalapeno/Cilantro Press Flour Tortilla

 

$3.00 / dozen
12" Tomato Basil Press Flour Tortilla

 

$2.85 / dozen
12" Spinach Press Flour Tortilla

 

$3.05 / dozen

 




Miscellaneous Retail Items

Corn Husks (Hojas)

 

$7.00 / pound
Chili Pods Mild or Hot

 

$4.50 / pound
Tamale Paper Wrap

 

$3.50 / 100 count roll
Tamale Paper Wrap
$28.00 / 1000 count package