Hand Stretch Flour Tortillas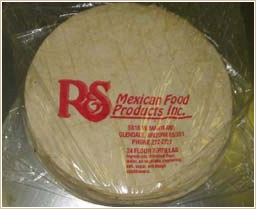 Our
Hand Stretch Flour Tortilla
Products are made from an authentic flour tortilla recipe with
no preservatives added
. We deliver fresh!
Made from your choice of either 100% pure Vegetable Shortening or, for those who still prefer it, all natural lard, the natural flavorings of these ingredients are not altered or hidden by chemical preservatives or flavor additives. These tortillas are hand stretched eliminating the need for extra "machining" which toughens the dough and diminishes the over all product quality.
Our Hand Stretch Tortilla is perfect for all your fried flour tortilla menu items because they are made without leavening.
Please continue to scroll down to view a detailed product list of all our Hand Stretch Flour Tortilla products.
| | |
| --- | --- |
| 201061 | Flour Hand Stretch Lard 6" Thick |
| 201100 | Flour Hand Stretch Lard 10" |
| 201130 | Flour Hand Stretch Lard 13" |
| 201140 | Flour Hand Stretch Lard 14" |
| 200040 | Flour Hand Stretch 4" |
| 200060 | Flour Hand Stretch 6" 5 Dozen Pack |
| 200062 | Flour Hand Stretch 6" 2 Dozen Pack |
| 210060 | Flour Hand Stretch 6" No Trim |
| 210061 | Flour Hand Stretch 6" No Trim Thick |
| 200061 | Flour Hand Stretch 6" Thick |
| 200070 | Flour Hand Stretch 7" |
| 210071 | Flour Hand Stretch 7" No Trim Thick |
| 200071 | Flour Hand Stretch 7" Thick |
| 200080 | Flour Hand Stretch 8" 5 Dozen Pack |
| 200082 | Flour Hand Stretch 8" 2 Dozen Pack |
| 210080 | Flour Hand Stretch 8" No Trim |
| 210081 | Flour Hand Stretch 8" No Trim Thick |
| 200081 | Flour Hand Stretch 8" Thick |
| 200090 | Flour Hand Stretch 9" |
| 200091 | Flour Hand Stretch 9" Thick |
| 200100 | Flour Hand Stretch 10" |
| 210100 | Flour Hand Stretch 10" No Trim |
| 200110 | Flour Hand Stretch 11" |
| 200120 | Flour Hand Stretch 12" |
| 200122 | Flour Hand Stretch 12" Extra Thick |
| 210120 | Flour Hand Stretch 12" No Trim |
| 200121 | Flour Hand Stretch 12" Thick |
| 200130 | Flour Hand Stretch 13" |
| 210130 | Flour Hand Stretch 13" No Trim |
| 210131 | Flour Hand Stretch 13" No Trim Thick |
| 200140 | Flour Hand Stretch 14" |
| 200142 | Flour Hand Stretch 14" Extra Thick |
| 210141 | Flour Hand Stretch 14" No Trim Thick |
| 200150 | Flour Hand Stretch 15" |
| 210150 | Flour Hand Stretch 15" No Trim |