Fresh Produce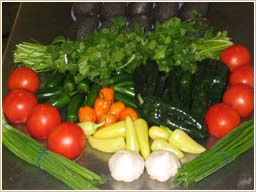 Our
Produce
is always the best available. We inspect our produce daily and remove any spoilage so you get nothing but 100% fresh, useable produce. There's no better value for the money. We carry a full line of produce items but for those hard to find or special produce needs just give us a call, we can normally get it for you by the next day. Give our Produce a try. You'll be happy you did!
We know Produce and we deliver it fresh!
Please continue to scroll down to view the complete list of all our available Fresh Produce Items (some seasonal restrictions may apply).
3753
Alfalfa Sprouts
3500
Lettuce, Salad Mix (5# / Pkg)
3656
Apples
3510
Lettuce, Salad Mix W/ Romaine
3103
Avocado
3507
Lettuce, Spring Mix
3643
Bananas
3409
Limes (40#/CS)
3854
Basil Fresh
3419
Limes, Key
3847
Beans Green
3670
Mangos
3730
Broccoli
3850
Mint
3530
Broccoli Florets
3758
Mushrooms, Large
3718
Cabbage, Green
3757
Mushrooms, Medium
3722
Cabbage, Red
3767
Mushrooms, Portobello
3632
Cantaloupe
3540
Mushrooms, Sliced (10# / Pkg)
3570
Carrot, Sticks (5# / Pkg)
3869
Nopales
3733
Carrot, Baby
3220
Onion, Colossal
3503
Carrot, Diced (5# / Pkg)
3535
Onion, Diced (5# / Pkg)
3723
Carrot, Jumbo (50# / Sx.)
3204
Onion, Green
3729
Cauliflower
3235
Onion, Jumbo (50#/ Sx.)
3529
Cauliflower Florets
3210
Onion, Red (25# / Sx.)
3720
Celery (24 / Cs.)
3550
Onion, Sliced (5# / Pkg)
3520
Celery, Sliced (5# / Pkg)
3438
Oranges (40#/CS)
3313
Chili, Green (25#/CS)
3650
Papaya (Each)
3318
Chili, Habanero (10#/Bx.)
3846
Parsley
3311
Chili, Jalapeno (40# / Cs.)
3350
Pepper, Bell Green (25#/CS)
3317
Chili, Poblano (25#

 

/ Cs.)
3355
Pepper, Bell Red
3316
Chili, Serrano (40# / Cs.)
3352
Pepper, Bell Yellow
3314
Chili, Yellow (35# / Cs.)
3634
Pineapple
3817
Cilantro (60 Ea/ Cs)
3505
Potato, 3/8" French Fry Cut
3560
Cole Slaw (5# / Pkg)
3732
Potato, # 2 (50# / Cs.)
3749
Corn On The Cob
3726
Potato, 70 Count (50# / Cs.)
3727
Cucumbers
3728
Potato, 90 Count (50# / Cs.)
3866
Eggplant
3707
Potato, Red
3905
Eggs (15 Dz / Cs) Large
3739
Potatoes Whole Peeled (24# / Cs.)
3904
Eggs (15 Dz / Cs) Medium
3856
Potatoes, Sweet
3840
Garlic, Whole
3724
Radish
3801
Garlic, Whole Peeled
3524
Radish, Sliced
3415
Grapefruit (40#/cs)
3828
Shallots
3614
Grapes, Green
3751
Spinach
3604
Grapes, Red
3644
Strawberries, Fresh
3631
Honeydew Melon
3312
Tomatillo (40# / Cs.)
3868
Jicama
3102
Tomato, #2
3744
Kale, Green
3155
Tomato, 5X5
3755
Kale, Red
3156
Tomato, 5X6
3645
Kiwi
3167
Tomato, 6X7
3410
Lemons (40#/CS)
3741
Tomato, Cherry
3108
Lettuce, Head (Cs)
3101
Tomato, Hothouse
3725
Lettuce, Green Leaf (24 Ea / Cs)
3105
Tomato, Roma
3750
Lettuce, Red Leaf (24 Ea / Cs)
3642
Watermelon
3708
Lettuce, Romaine (24 Ea / Cs)
3716
Zucchini, Green
3508
Lettuce, Shredded (5# / Pkg)
3715
Zucchini, Yellow