Fresh Corn tortillas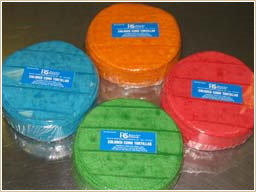 Our
Corn Tortillas and Chips
are made from whole kernel corn, cooked to bring out the corn's natural flavoring. We don't alter the corn's own subtle flavoring by adding preservatives to our corn product. All of our corn tortillas are made with
no added chemical preservatives
. We deliver fresh!
After cooking, the corn is ground with our hand-carved stones to the perfect consistency for the product you order. We know the difference between a chip tortilla and one for enchiladas! Our processes allow us to custom grind the corn for each style we offer.
You can choose from a wide range of products made from whole kernel white, yellow, or blue corn as well as many specialty items such as brightly colored red, blue, green and orange tortillas for chips or our rich and spicy Red Chili Corn tortillas.
We also make a full line of Maseca (Corn Flour) Tortillas for your special menu needs.
Please continue to scroll down to view a detailed list of all our Corn Tortilla products.
| | |
| --- | --- |
| 130500 | Corn Blue 5 oz |
| 130510 | Corn Blue 5 oz Large |
| 130560 | Corn Blue 5 oz Mini |
| 130610 | Corn Blue 6 oz Large |
| 130800 | Corn Blue 8 oz |
| 130810 | Corn Blue 8 oz Large |
| 131010 | Corn Blue 10 oz Large |
| 130614 | Corn Blue Chip 6 oz Large 4-way 25# |
| 130000 | Corn Blue Masa Regular Grind |
| 110681 | Corn Chipoltle Chili 6 oz Large |
| 110513 | Corn Color Blue 5 oz Large |
| 110515 | Corn Color Green 5 oz Large |
| 110517 | Corn Color Orange 5 oz Large |
| 111207 | Corn Color Orange 12 oz Large |
| 110511 | Corn Color Red 5 oz Large |
| 100813 | Corn Maseca & Blue Corn 8 oz Large |
| 101013 | Corn Maseca & Blue Corn 10 oz Large |
| 101303 | Corn Maseca & Blue Corn 13 oz |
| 101313 | Corn Maseca & Blue Corn 13 oz Large |
| 100560 | Corn Maseca 5 oz Mini |
| 100750 | Corn Maseca 7 oz 5" |
| 100700 | Corn Maseca 7 oz Regular |
| 100810 | Corn Maseca 8 oz Large |
| 101040 | Corn Maseca 10 oz 4" |
| 101050 | Corn Maseca 10 oz 5" |
| 101010 | Corn Maseca 10 oz Large |
| 101210 | Corn Maseca 12 oz Large |
| 101200 | Corn Maseca 12 oz Regular |
| 101310 | Corn Maseca 13 oz Large |
| 101410 | Corn Maseca 14 oz Large |
| 101610 | Corn Maseca 16 oz Large |
| 100814 | Corn Maseca Chip 8 oz Large 4-way 25# |
| 100614 | Corn Maseca Chip Mixed 6 oz Large 4-way 25# |
| 121311 | Corn Maseca Yellow 13 oz Large |
| 113514 | Corn Mixed Chip Colored 5 oz Large 4-way 25# |
| 129514 | Corn Mixed Chip Colored 5 oz Large 4-way 25# |
| 110508 | Corn Red Chili 5 oz |
| 110568 | Corn Red Chili 5 oz Mini |
| 110618 | Corn Red Chili 6 oz Large |
| 110808 | Corn Red Chili 8 oz |
| 111018 | Corn Red Chili 10 oz Large |
| 110684 | Corn Red Chili Chip 6 oz Large 4-Way |
| 110400 | Corn White 4 oz |
| 110450 | Corn White 4 oz 5" |
| 110410 | Corn White 4 oz Large |
| 114510 | Corn White 4.5 oz Large |
| 110500 | Corn White 5 oz |
| 110590 | Corn White 5 oz Fina |
| 110510 | Corn White 5 oz Large |
| 110560 | Corn White 5 oz Mini |
| 115510 | Corn White 5.5 oz Large |
| 110619 | Corn White 6 oz Hot Large |
| 110610 | Corn White 6 oz Large |
| 110750 | Corn White 7 oz 5" |
| 110810 | Corn White 8 oz Large |
| 110800 | Corn White 8 oz Regular |
| 111030 | Corn White 10 oz |
| 111050 | Corn White 10 oz 5" |
| 111019 | Corn White 10 oz Hot Large |
| 111010 | Corn White 10 oz Large |
| 111110 | Corn White 11 oz Large |
| 111170 | Corn White 11 oz Large Singles |
| 111210 | Corn White 12 oz Large |
| 111310 | Corn White 13 oz Large |
| 111340 | Corn White 13 oz Long Oval |
| 111400 | Corn White 14 oz |
| 111410 | Corn White 14 oz Large |
| 110404 | Corn White Chip 4 oz 4-way 25# |
| 110406 | Corn White Chip 4 oz 6-way 25# |
| 114514 | Corn White Chip 4.5 oz Large 4-way 25# |
| 110506 | Corn White Chip 5 oz 6-way 25# |
| 110514 | Corn White Chip 5 oz Large 4-way 25# |
| 110516 | Corn White Chip 5 oz Large 6-way 25# |
| 115512 | Corn White Chip 5.5 oz Large 2-way 25# |
| 115514 | Corn White Chip 5.5 oz Large 4-way 25# |
| 115516 | Corn White Chip 5.5 oz Large 6-way 25# |
| 110602 | Corn White Chip 6 oz 2-way 25# |
| 110614 | Corn White Chip 6 oz Large 4-way 25# |
| 110616 | Corn White Chip 6 oz Large 6-way 25# |
| 110814 | Corn White Chip 8 oz Large 4-way 25# |
| 110816 | Corn White Chip 8 oz Large 6-way 25# |
| 1106141 | Corn White Chip Frozen 6 oz Large 4-way 25 # |
| 110002 | Corn White Masa Coarse Grind |
| 110001 | Corn White Masa Fine Grind |
| 110003 | Corn White Masa Prepared |
| 110000 | Corn White Masa Regular Grind |
| 110004 | Corn White Nixtamal |
| 120400 | Corn Yellow 4 oz |
| 120410 | Corn Yellow 4 oz Large |
| 120500 | Corn Yellow 5 oz |
| 120510 | Corn Yellow 5 oz Large |
| 120560 | Corn Yellow 5 oz Mini |
| 125510 | Corn Yellow 5.5 oz Large |
| 120610 | Corn Yellow 6 oz Large |
| 120810 | Corn Yellow 8 oz Large |
| 121050 | Corn Yellow 10 oz 5" |
| 121010 | Corn Yellow 10 oz Large |
| 121040 | Corn Yellow 10 oz Long Oval |
| 121210 | Corn Yellow 12 oz Large |
| 121310 | Corn Yellow 13 oz Large |
| 121340 | Corn Yellow 13 oz Short Oval |
| 121410 | Corn Yellow 14 oz Large |
| 120414 | Corn Yellow Chip 4 oz Large 4-way 25# |
| 122514 | Corn Yellow Chip 5 oz Large 4-way 20% |
| 120514 | Corn Yellow Chip 5 oz Large 4-way 25# |
| 122516 | Corn Yellow Chip 5 oz Large 6-way 20% |
| 120516 | Corn Yellow Chip 5 oz Large 6-way 25# |
| 125514 | Corn Yellow Chip 5.5 oz Large 4-way 25# |
| 122614 | Corn Yellow Chip 6 oz Large 4-way 20% |
| 120614 | Corn Yellow Chip 6 oz Large 4-way 25# |
| 1206141 | Corn Yellow Chip 6 oz Large 4way Frozen |
| 120616 | Corn Yellow Chip 6 oz Large 6-way 25# |
| 120814 | Corn Yellow Chip 8 oz Large 4-way 25# |
| 120000 | Corn Yellow Masa Regular Grind |
| 120004 | Corn Yellow Nixtamal |